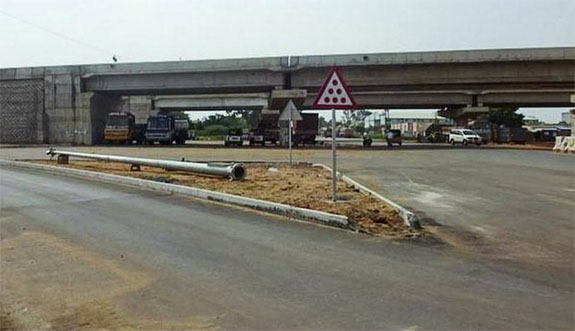 Nearly 82 per cent of work on the 30.5 - km stretch, costing Rs. 1,400 crore and extending from Nemilicheri to Minjur, has been completed
The Phase II of the Chennai Outer Ring Road project from Nemilicheri to Minjur is nearing completion, with all but five of the 143 structures fully installed.
These include a bridge, a pedestrian underpass, a vehicular underpass and an interchange on which work is progressing.
"Nearly 82 per cent of the work has been completed. Of the 30.5 - km road stretch, bituminous concrete has been laid on 14.6 km. In locations where the road work is complete, streetlights have been installed and are already in use," said a source of the Tamil Nadu Road Development Company (TNRDC), which is the project associate for the Rs. 1,400 - crore facility that would form yet another semi-circle around the city. The project is likely to be completed by December - end.
Rains, a setback
"However, if we have another round of rains like last year, it would be a setback," the source said. Work to connect Nemilicheri on NH-205 to Minjur on the Tiruvotriyur-Ponneri-Pancheti Road on a 'Design, Build, Finance, Operate and Transfer' basis began in 2014.
The road has 107 box culverts, seven bridges, 14 pedestrian underpasses (that pass beneath the road and are not like subways), 13 vehicular underpasses, one flyover and one interchange that is coming up at Padianallur on the Red Hills road near the toll plaza.
Meanwhile, traffic flow on Phase I of the road from Vandalur to Nemilicheri - which was inaugurated in August 2014 by Chief Minister Jayalalithaa - has increased considerably.
'We are yet to see heavy vehicular traffic on this stretch as the port will be accessible only after phase II is complete. As of now, the road sees traffic bound to Bengaluru and Tirupati,' said a source in the TNRDC.
More amenities soon
Wayside amenities, including restaurants and rest rooms, will soon be created and let out on lease. Motorists junction had been complaining about the lack of lighting at Nemilicheri and, as a result, the increase in the number of accidents on this road. However, TNRDC officials said that high-mast lights are being installed.
'We will soon light the area. A traffic island is under construction," he said.
Wayside amenities, including restaurants and rest rooms, will soon be created and let out on lease