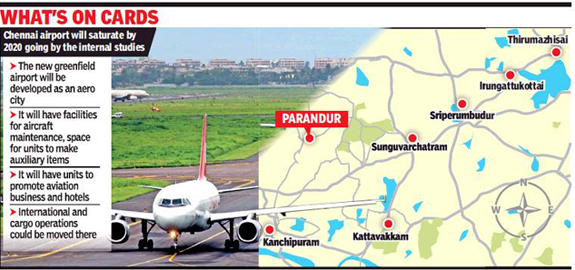 The proposed airport will require about 4,500 acres including for future development.
CHENNAI: After years of scouring areas around the city for a second airport, the government is set to float global bids in a week for a consultant to do a detailed master plan for a site – likely to be Parandur near Sunguvarchatram.The selected consultant will, among other things, prepare a financial model and recommend development model under a public-private-partnership (PPP) framework, sources said.
The proposed airport will require about 4,500 acres including for future development. "In an attempt to speed up the process of finalizing the plan, senior bureaucrats had a meeting with chief minister Edappadi K Palaniswami a few days ago.
The Tamil Nadu Industrial Development Corporation Limited (Tidco) will float a Request for Proposal to zero in on a consultant," said a source. The selected firm is expected to conduct a techno-economic feasibility study and prepare a project report, assist the government in obtaining statutory clearances and conduct bid process for selection of the developer.
The government is expected to make known, by March or April, the location of the site alongside the identification of the consultant. Incidentally, Tidco had dumped its previous bid in July last year after extending the tender call thrice, since it faced a series of issues beginning with prospective consultants demanding that the government identify the site first. This was reflected in a pre-bid meeting the agency had convened to get the project going
Tidco roped in a retired Airports Authority of India (AAI) official to help identify the site, given that the proximity of the Tambaram and Arakkonam air force stations could pose problems. The AAI authorities visited recently the proposed site at Parandur as well as at Mamandur near Cheyyar Sipcot industrial park, suggested by the state government. The Vision 2023 plan of former chief minister J Jayalalithaa had spelt out development of a greenfield airport in Sriperumbudur on a PPP basis.
Once the site is officially identified, Sipcot will freeze the land. "After confirmation from the government and AAI is received, Sipcot will take up the further proceedings. There is no problem as of now, given that very few families live around the Parandur site," said another official.
The state has international airports at Chennai, Coimbatore, Trichy and Madurai and domestic airports at Tuticorin and Salem. Chennai remains one of the four busiest airports in the country, with 20.36 million passengers recorded in 2017-18. It also constituted 6.7% share in the country's total aircraft movement during the year. The rise in demand prompted the state government to look out for sites for a second airport and sites such as Manallur near Gummidipoondi and Thiruporur were considered as possible locations.